NPBC ACCOUNTING & TAX, PC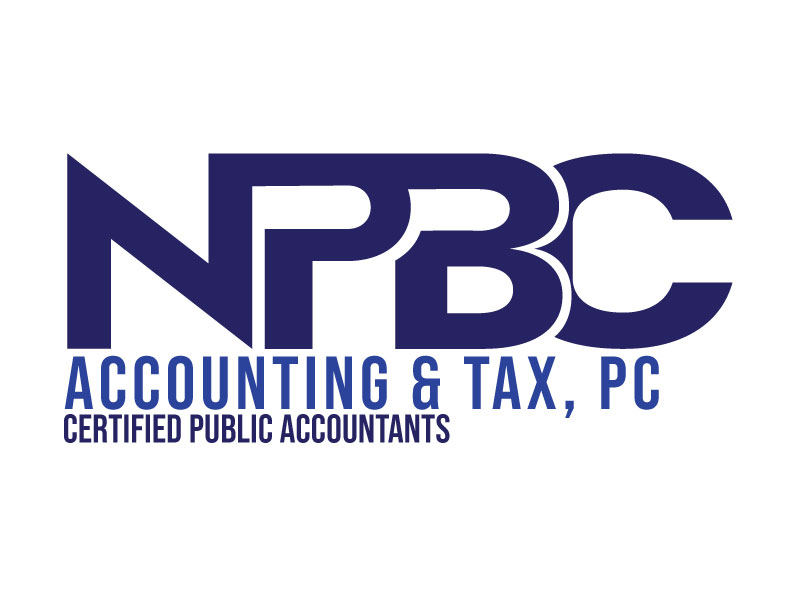 An experienced Certified Public Accountant will bring invaluable expertise to your business, serving as an advisor, as well as an accountant; this frees your time to focus on other parts of your business. 
One of the most important parts of running a business is keeping your finances in order.
By hiring NPBC Accounting & Tax, PC – a division of NPBC Business Center – to work on business accounting, keep comprehensive financial records, file taxes, apply for small business loans, and plan for the long term is one of the best decisions a small business owner can make. Bookkeepers and accountants can do routine financial work day-to-day, but Certified Public Accountants have the skills to complete in-depth analysis, represent businesses at a tax audit, and help make more high-level business and tax decisions.
Our Full Service Certified Public Accounting Services
Accounting System Design
Budget and Financial Management
Cost Containment
Create and Analyze Budgets
Forecast Revenue/Analyze Expenses
Income Tax Preparation
Insurance Audits
Prepare Financial Statements
Projections for Loan Proposals
Review Loan Covenants
Tax Compliance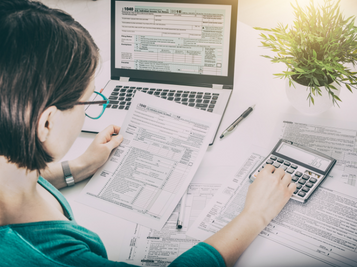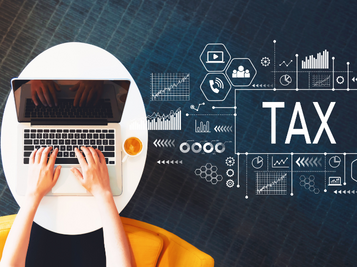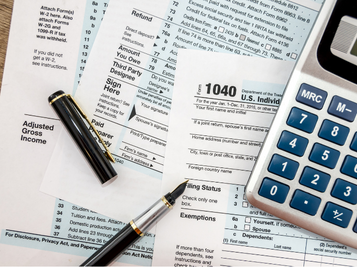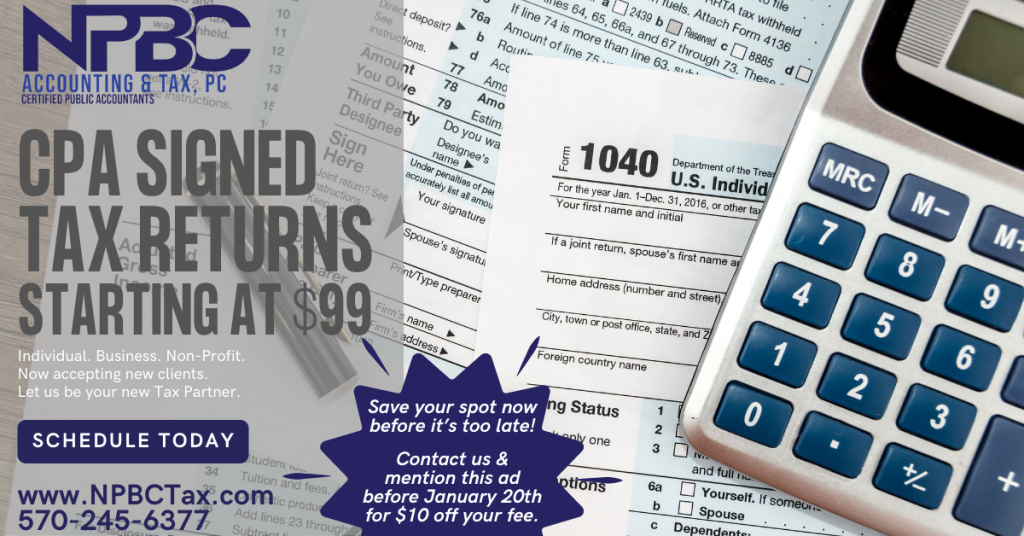 NPBC Accounting & Tax, PC
NPBC Accounting & Tax, PC – a division of NPBC Business Center – can do your taxes too! Our experienced CPA's will ensure that every line on your tax return is correct and if you are due a refund, you will receive the maximum amount that you are entitled to.
We file individual returns, business returns, (Partnership, S-corporation, and C-corporation), and nonprofit tax returns (form 990 and 990EZ).
Take a look at these interesting facts about taxes:

The word "tax" comes from the Latin taxo, which means "I estimate."
There are more words in the tax code than there are in the Bible. The tax code is about 4 million words long.
The writing on the Rosetta Stone, a monumentally important artifact and the key to deciphering ancient Egyptian hieroglyphics, is mostly about taxes.
A businessman deducted the cost of dinner, a model the cost of new headshots, and a work-at-home business owner deducted the costs of his lawn care. If it benefits your business in any way, you can probably write it off.
If you were going simply by tax documents, 7 million US children disappeared in 1987—the same year that the IRS started requiring that parents list their children's Social Security numbers on their taxes.
Taxpayers lose out on millions by not filing returns: Many workers who don't owe taxes neglect to file returns, not realizing that there are a number of tax credits that offer refunds. The Earned Income Tax Credit, for example, offers up to a $6,318 refund for folks who don't owe taxes, yet an estimated 20% of eligible filers fail to take advantage of it.

 
At NPBC Accounting & Tax, PC, we want to make sure that you don't miss out on any deductions or tax credits which you are entitled to. You can be confident that your taxes will be accurate and complete when you file them. Our experienced accountants not only will prepare your taxes but will also answer your questions and advise you if there are ways that you can save in the future.
Are you not satisfied with the service from your current accountant? Too expensive? Consider switching today!
Northeast Pennsylvania Business Center
As an outsourced accounting provider offering a full range of bookkeeping, accounting department, Controller, and fractional CFO services for small to mid-sized businesses. We remove the burden of day-do-day bookkeeping chores, ensure compliance and provide cost effective financial expertise on demand. By partnering with us to help you manage key non-core functions, you can focus on maximizing your core business operations.